Uncover Outlier Prescribing Patterns
Prescribing Physician Analytics
Arine's Prescriber Analytics solution uncovers misprescribing patterns to identify high-impact, low-cost interventions that improve patient outcomes. Ready to reduce misprescribing?
Reduce misprescribing
Millions of Americans have been prescribed a potentially inappropriate medication, costing healthcare billions in interventions for preventable problems. Addressing misprescribing and coordinating with all of an individual's prescribers can improve the patient's health and quality of life while impacting cost of care.

Arine goes beyond one-dimensional patient adherence and tackles drug-related problems at the provider level by uncovering prescriber patterns and enabling prescriber education and communication at scale.
Improve outcomes and cost
Learn how AI enables safe, effective, and appropriate medication therapy to improve cost, quality and member satisfaction. Get the Comprehensive Medication Management white paper.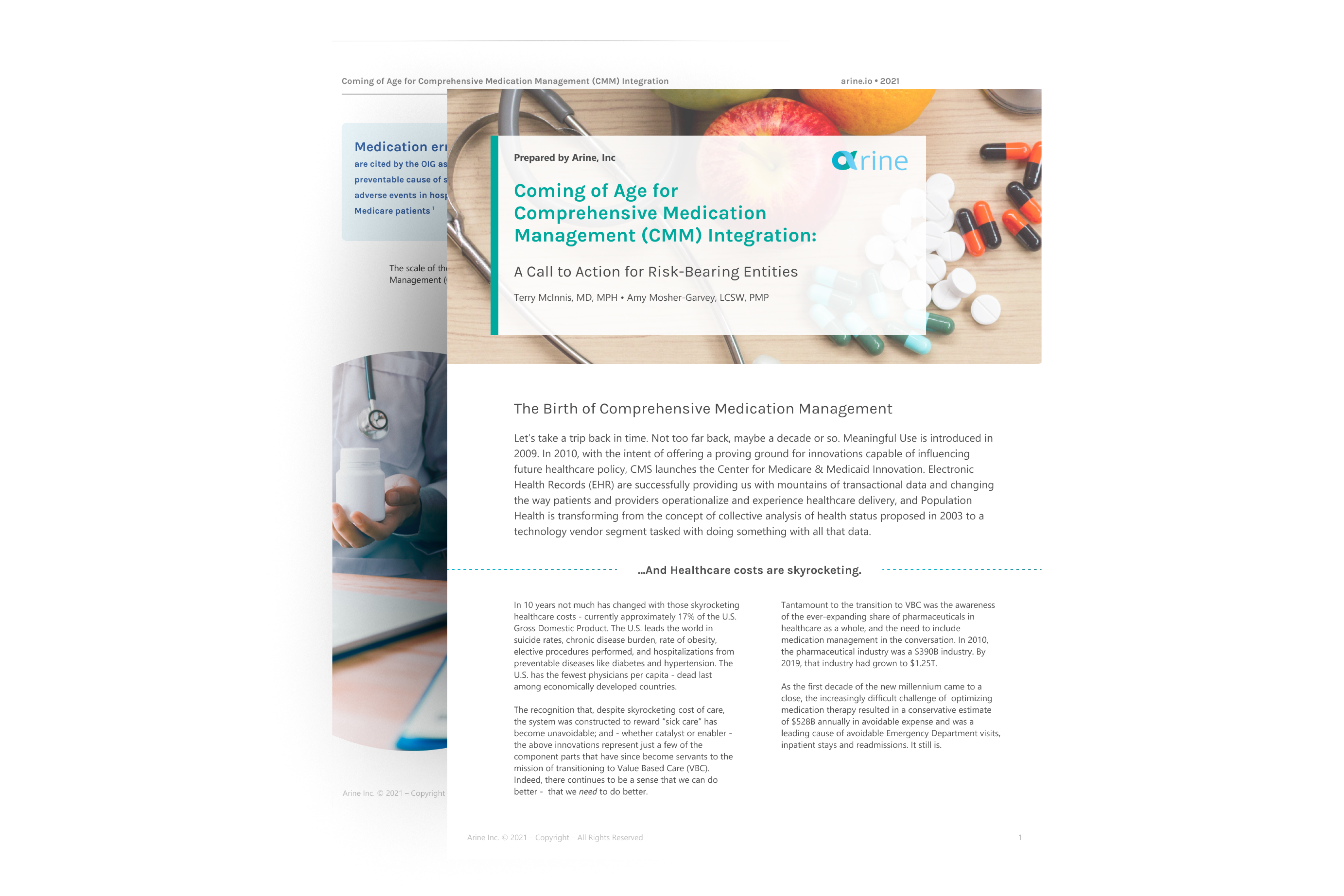 Behavioral Health
75%
Of behavioral health polypharmacy gaps closed
Impact
70%
Of care gaps closed within 6 months of Arine's implementation
Opioid Management
60%
Reduced morphine milligram equivalence (MME) by 60% plus
Arine's Approach to Prescribing Analytics
A better way to optimize medications
1

Data Insights

Arine feeds your data into our AI-driven platform and analyzes prescribing trends to identify outliers.

2

Actionable Interventions

Arine creates proactive recommendations for each provider to implement.

3

Outcomes

Arine tracks provider implementation, measuring impact on outcomes.
How Arine improves outcomes across your entire provider network
Medication management point solutions only focus on patient adherence. Arine expands beyond adherence to optimize medication therapy at the prescriber level, reducing the cost of and problems related to potentially inappropriate medications.
Analyze treatment and prescribing patterns across your entire provider network.
Identify key areas for improvement and prescriber intervention.
Pinpoint members in provider panels with non-optimized treatment.
Communicate recommendations to each prescriber in one intuitive dashboard.
Measure implementation and outcomes for every provider.
We are now moving beyond a single point of contact to understand and address what is happening in between sessions and we're doing this using data and leveraging technology. This is an exciting shift for the behavioral health field. Magellan Health is working with...Arine—market leaders in technology—on the whole patient journey so we know where there is elevated risk when we have patients who aren't sitting face to face in their provider's office.
- Ken Fasola
CEO, Magellan Health, FORBES Article
A transparent way to improve outcomes and reduce costs across your provider network.
See for yourself. Request a demo today.
Frequently Asked Questions