Quality Improvement
Improve STAR Ratings
Arine's Quality Improvement Solution helps Medicare Advantage plans boost medication-related CAHPS and HEDIS quality measures to 5 STARs. Learn how you can improve quality measures this year with a demo.
Achieve 5 STARs
Medication mismanagement prevents health plans from achieving 4 and 5 STARs for medication-related measures, resulting in negative consequences for both plans and patients:
Increases cost of care
Reduces quality-related reimbursements
Affects member satisfaction
Unlike point solutions that take a "check-the-box" approach to MTM, Arine's Quality Improvement Solution identifies how plans can catch medication-related problems before they become costly to comprehensively improve adherence, reduce misprescribing, and increase CAHPS and HEDIS ratings.
5 STARs for VNSNY
Discover how Arine's Quality Improvement program improved Visiting Nurse Service of New York's STAR Ratings. Read the case study.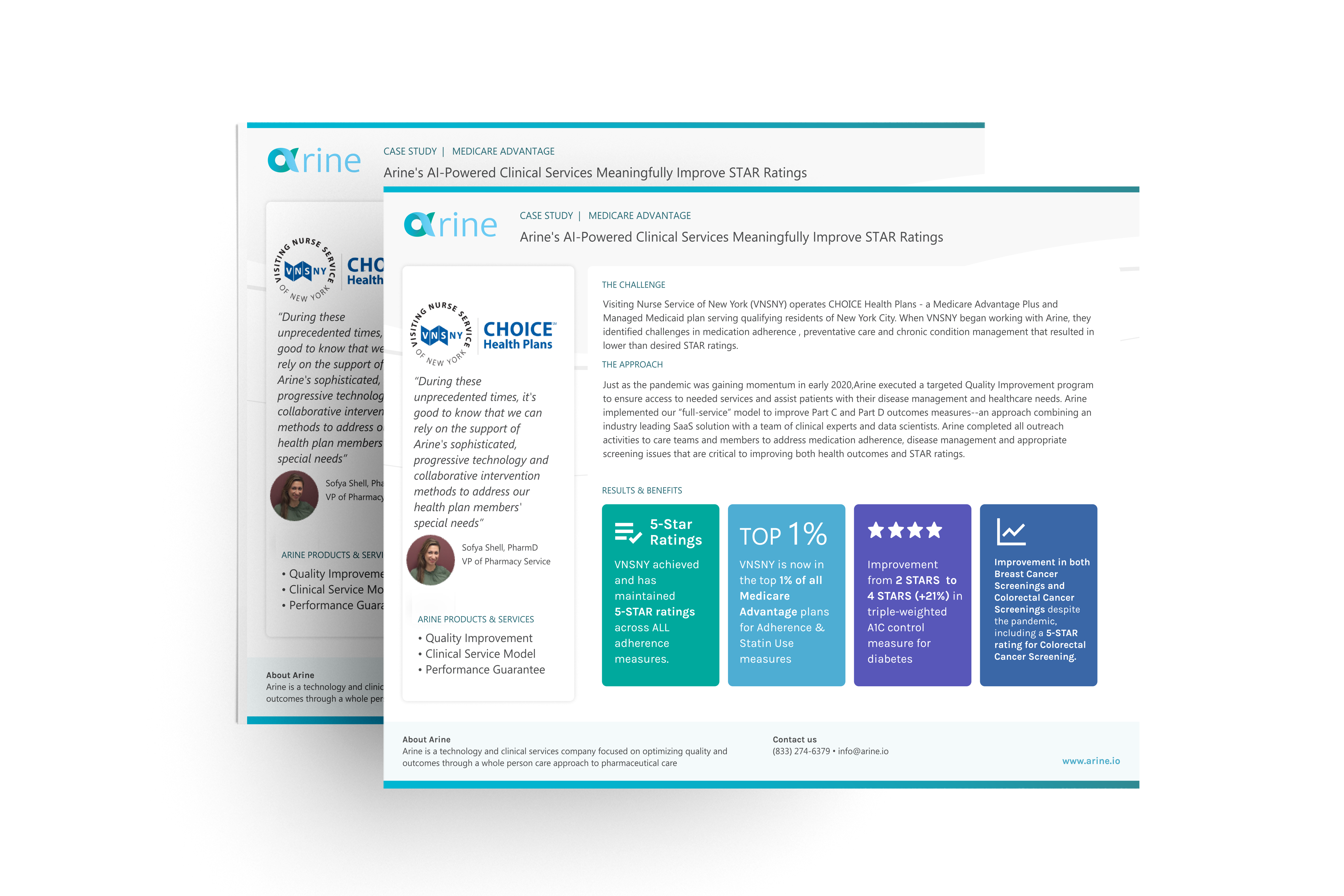 STARs Quality Measures
5 STARs
Improvement across Part C and Part D measures within 12 months with Arine
Percentile
99th
Achieved the top 1% of all Medicare Advantage plans for adherence and appropriate prescribing
Net Promoter Score
94
Achieved higher member satisfaction for Arine clients
Approach
The Arine Quality Improvement Framework
1

Identify Gaps and Risk Trajectory

Arine analyzes social, clinical, and behavioral data to understand risk trajectory for each member.

2

Prioritize Outreach

Arine's predictive algorithms permit just-in-time interventions.

3

Deliver Results

Arine delivers demonstrable improvement in quality with ability to track ongoing performance.
Identify Opportunities
Arine continuously analyzes data to identify the highest impact opportunities to improve quality of care.
Generate population and patient level insights.
Leverage Arine's workflow engine to assign tasks to the right care team member.
Predict adherence patterns with Arine's data science and machine learning capabilities.
Identify misprescribing within your provider network to help patients get the safest, most effective, and most appropriate medication.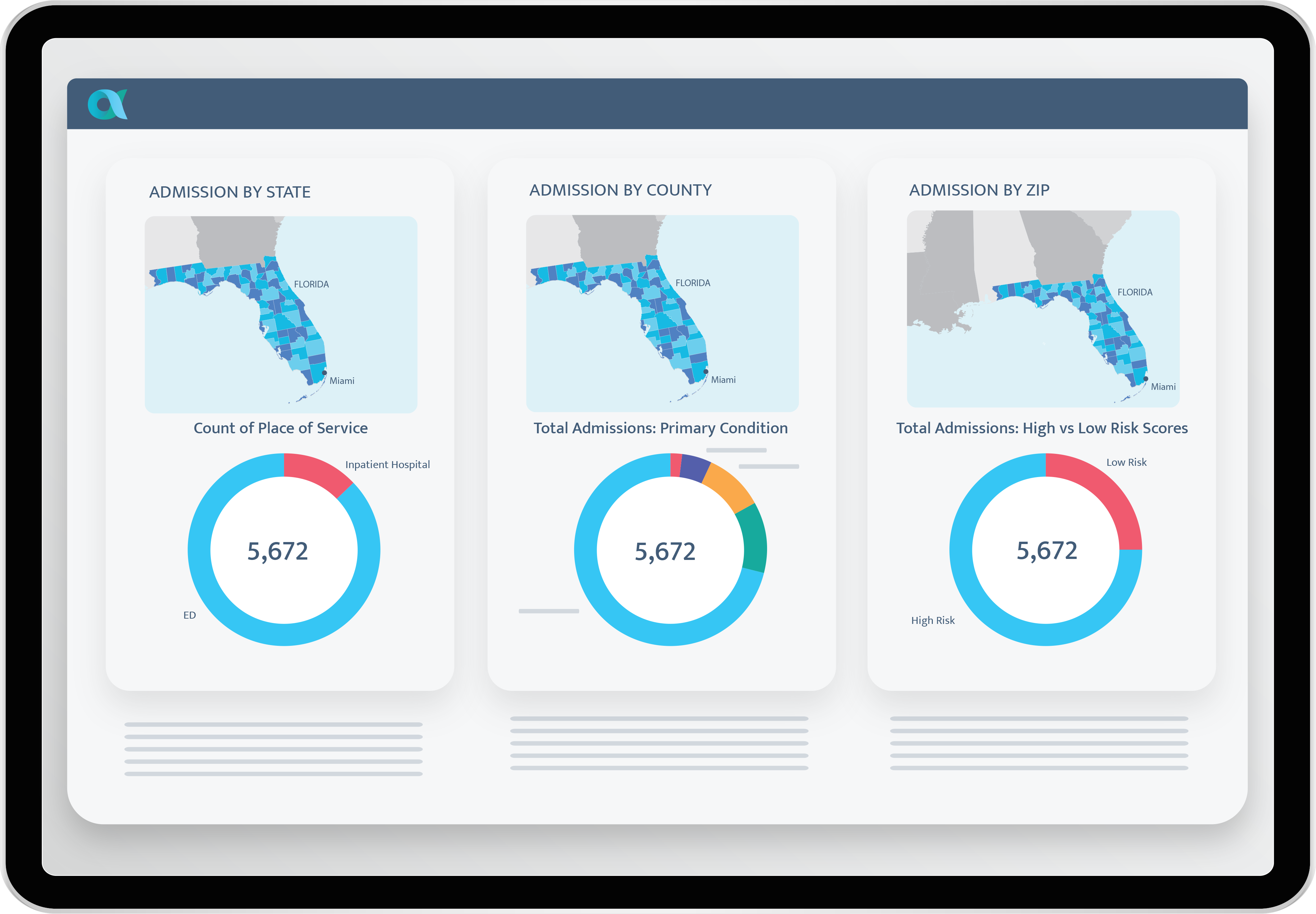 Take Action
Arine builds personalized care plans for each person that moves them to meeting their health goals.
Tailor SmartQuestions to your population to collect additional insights, such as social determinants of health barriers.
Connect patients, providers, pharmacies, and plan services in one intuitive dashboard.
Address Part C (Medical) and Part D (Pharmacy) quality measures with one program.
Track the patient journey and monitor care plan and medication adherence.
Improve Quality
Watch your CAHPS and HEDIS measures improve with Arine's algorithms driving outcomes for your populations.
Close the loop with reporting that demonstrates the results of your quality improvement program.
Continuously optimize how you deliver care. Arine's algorithms learn your population to prevent problems before they become costly.
Understand quality measure outcomes at both the patient and population level.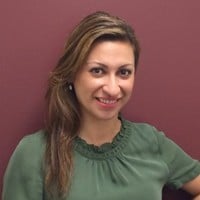 "During these unprecedented times, it's good to know that we can rely on the support of Arine's sophisticated, progressive technology and collaborative intervention methods to address our health plan members' special needs."
- Sofya Shell,
PharmD, VP of Pharmacy Service, VNSNY
Frequently Asked Questions